I don't normally spend much time at HuffPo, but Instapundit had a pointer to an interesting series of posts the other day. Blonde, blue-eyed D.C. mom Danielle Crittendon decided to spend an entire week living her life while robed in a full black abaya. She reported her experiences in three parts:
1. Does this burka make me look fat?
It looks like laundry day in a mourning Victorian household. I've got a large pile of black fabric in front of me, which I have to sort into cloaks, gloves and headcoverings.
Once separated, I have to figure out how to put them on. The cloak (abaya) seems straightforward enough: It could double as a vampire cape for Halloween. I find the armholes in the folds, and wrap the whole thing around my shoulders. It drapes down to my ankles. As I turn before the mirror, I notice goiter-like bumps at my hips. Oh great -- this is going to be even more flattering than I thought! But surely this can't be right?
It had been he same the day before on the Washington subway. I entered the train at morning rush hour carrying a large black backpack, which I clutched to my chest in the center of the train. With the exception of one elderly passenger who bolted up from his seat when I got on, scurrying to the most remote end of the carriage, everyone else aboard resolutely ignored my appearance. The woman closest to my mysterious backpack glanced up and then resumed her Blackberrying. Two women beside her carried on gossiping about their childrens' school. The huddle of office workers in the space by the doors appeared untroubled by me or my unusual parcel.
I can't know what they were thinking, obviously. A few must have wondered whether I was about to explode. But evidently they'd rather be blown up than exhibit any behavior that might be construed as intolerant.
3. Why don't you just take it off?
I grabbed a cart and launched down the produce aisle. On a weekday morning, there weren't many other customers--a few mothers pushing toddlers, an elderly couple, a clerk stacking apples. All acknowledged my presence in one of several ways--ways that were to become very familiar throughout my experience wearing the burka:
1) Perfect facial control: "Do you see a woman in full abaya, Gladys? I certainly don't."
2) Complete indifference. "Hey if that's your bag, lady, it's fine with me." Most people under 25 wouldn't even take a second look.
3) A fixed smile: "I know you're dressed oddly/in a way I find disturbing but I would never judge you by it."
4) Determined helpfulness: "Sure thing--check Aisle 7." "Would you like anything to go with that latte?" "Will that be all for you today?"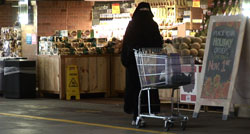 In some cases, Brent would notice passersby turning around to stare--but not until they were a good twenty feet away. Otherwise, any stereotype of Americans being openly intolerant or bigoted was pretty much shattered during my first 24 hours wandering around under a veil. Even Brent was surprised by the lack of reaction
The good news is that, despite scare stories circulated by groups like CAIR, Ms. Crittendon did not meet with any open rudeness or discrimination. On the contrary- according to her reports, she was mostly greeted with aggressive cheerfulness or a kind of tenderhearted curiosity- like the airport security personnel who quizzed her on how they might demonstrate deeper sensitivity.
All of this reminds me of the time I encountered a woman in full black abaya hoisting her bare foot up to the bathroom sink in a university library, presumably to perform wudu. She gave me an embarrassed looked and said "Sorry," in an eastern-European accent.
I shrugged. "Not a problem, " I said.
And for me it isn't. As long as she wipes up any water spilled on the floor- and she struck me as the type of fastidious person who would- and does not demand a special prayer space, or special foot baths, or a separate, Muslima-only bathroom, I don't feel inclined to complain.
And she did seem genuinely chagrined to be "caught in the act," so to speak. I was a little curious as to where she intended to pray in a library- perhaps a secluded stairwell?- but as long as she was discreet and not disruptive, it was her business, not mine. And since I did not see or hear her after that, I assume that she found one of what must be over a dozen obscure nooks in the 75+year-old building.
Or maybe she just stepped in something nasty and needed to wash off her foot.